Well I guess you could say we had a pretty good weekend. Friday night I took Miss H to my dad's so she could get acquainted with my nephew before we had their pictures taken on Saturday. Once she warmed up to him she had a good time. She was sitting in her chair eating some lasagna for dinner and I asked her "Is that good?" because she was just gobbling it up. She nodded her head "yes"!! She's never done that before. My sister and I ran to Old Navy and got Miss H a pair of jeans and they did have the swimsuit that I posted a picture of, the little blue one with polka dots, so I got her that. They had a bunch of summer clothes on sale so I got her a few things. Gotta love tax refunds!! By 8:30 or so that night I was actually feeling really horrible, and by the time I got Miss H home an hour later I was really sick. My head was pounding, I felt really hot (I had a temp of 100.5) my stomach hurt, I was really nauseous and I had this purple rash all over my body. Hubby took over and put Miss H to bed for once—he never does this so thank God it went very smoothly. Then he gave me some Ibuprofin, put the heated blanket on me because I was freezing and I fell asleep by 10:30. I was fine the next morning when Miss H woke up at 8:30. I talked to my stepmom later and found out she had used Prego Italian Sausage spaghetti sauce for the lasagna. That was the problem right there. I can NOT eat Italian sausage. I thought it had tasted kind of spicy, that's why I didn't eat hardly any of it. But I guess even the tiny bit I ate was enough to make me sick. Saturday morning after we'd been up about 30 minutes Miss H started waving bye bye out of nowhere and went and got her coat. I guess she thought it should be time to go to the sitter's. My mother in law came over around noon Saturday and brought me Taco Bell for lunch which I thought was really sweet. Then she went with me to get Miss H's pictures taken with her cousin. That did NOT go well. Right when I sat her on the table next to him he reached over and grabbed her face really hard. He was born at the end of May so he's a month and a half younger than her but they're the same size. He's big, and he's a bully. My brother and his fiancé teach him to hit, WHY I have no idea. They don't have the same values and morals as we do obviously. They also don't work with him, so he's nowhere close in development to Miss H. And he's never around other babies, ever, so he is fascinated with them but he just gets way too rough. So that was it, it was over right when he grabbed her, Miss H didn't want to even sit next to him. We tried to do her by herself and she wouldn't even do that, she was so ticked at him. They left and she was fine! We re-ordered my mother in law's pictures because they lost her order from Miss H's Christmas pics…they gave them ALL to us for free since they messed up!! They definitely redeemed themselves…I tell you I was ready to badmouth that place to everybody, with the way a couple of the employees treated us and the way they lost our pics etc. but the manager is the one we dealt with this time(she is the one that took Miss H's pics in the first place) and she was a huge help. After that my mother in law took us to Old Navy. She got Miss H so many clothes for her birthday! She got her a couple pairs of jeans, the cutest dark blue and white striped sweater coat(Miss H loves to put this on), a little hat, a new pair of shoes, a pink short sleeved terry cloth swimsuit cover up, a 2 piece swimsuit(hubby says he wants to put her in a 2 piece now because she'll never be allowed to wear one when she gets older)…I didn't want her to wear a 2 piece but I compromised. The top is a triangle top which I don't really care for, but the bottoms instead of being tiny little bikini bottoms that won't even cover her diaper are boy shorts. It'll be cute, but she'll wear the one piece more if I have anything to say about it. :o) While we were there Miss H was drinking a bottle and she handed it to me and I said "are you done?" and she nodded her head "yes." So she really does know what nodding her head yes means! She's so stinking smart! Then my mother in law said we needed to look at "big girl" clothes, and she picked out a blue longer knit skirt which I actually LOVE…it's the same style of the skirts I got from there last year to wear on the honeymoon, and none of them fit because I've lost so much weight. And then she found a tank that's nice and flowy…it's pretty see-through, but it's supposed to be a swimsuit cover up…I really like it. She made me try them on for her of course, and decided I had to have them. I think she likes the fact that the shirt she got me for Christmas is my favorite shirt I have right now and I wear it all the time. So I thought that was really nice of her, I don't have a birthday or anything coming up, it was for no reason whatsoever. After that she came back and hung out at our house. I was exhausted after shopping all day, and hubby had a big headache, but we finally got up enough energy to go rent some movies with his mom and we went to their house. We tried to watch Superman Returns, but Miss H is just way too entertaining. She would sit on her knees with her feet under her butt and just bounce bounce bounce, it was so cute. And she pulled off her sock and then tried and tried to put it back on. She also wanted up on the couch with me. I put her up there and she crawled over to the corner and sat down, with her arm on the arm of the couch, and just sat there. She had this look on her face like "Yea I'm a big girl just hanging out on the couch with the big people." It was so cute(yea I know I keep saying that). Yesterday her new thing was to climb into the basket that we keep her diaper change supplies in and just sit there. Before I re-arranged the living room hubby said she was sitting in the basket pulling all the stuffed animals out of the basket next to her. She has also started climbing up onto her foam chair and "jumping" on it. We thought we had it wedged securely between the recliner and couch but after jumping off and on all day she must have loosened it because later last night it toppled over and she went over the back of it. I was scared to death, but she was completely fine, didn't even cry…and she climbed right back on when we sat the chair upright. She's just changing so fast, she does new things every day and it just amazes me how quickly she's growing up. She'll be 10 months old in 2 days and she's already communicating with us very well, she understands a lot of what we're saying, she's into everything…she's able to get herself Puffs if she wants them(which she calls num nums)…if someone is playing with a toy that she doesn't want them to play with, she brings it to me for "safe keeping" or hides it behind her back…I could just go on and on about everything she's learning to do. She acts the same as her cousin who is going to be 2 next month, except for he can walk. She did a couple new things this morning even. I put her coat on her and left her on the floor in the dining room and went out to put her diaper bag etc. in the car. When I came back in she must have decided I was taking way too long because she'd taken off her coat and wandered off to play again. She's never taken her coat off herself before. Then when we got to the sitters a couple little birds flew overhead and she pointed at them "dat!"(which means "that"….I am always pointing at something and saying "what's that?" so she points at everything and says "dat"—which reminds me that last night she was pointing at things in her book and saying "dat" and hubby would name the object and she would nod her head yes and then point at something else). She's seen geese fly right over out heads before and noticed them, back in the summer and fall, but she's never paid any attention to tiny birds before this…maybe because she hasn't seen any because it's been so stinking cold!!! The weather is warmer today, which is nice. It was about 35 this morning when we went out to the car, she loved it. A little breeze blew on her face and she wrinkled up her nose and smiled. I cannot wait for Spring. It's so sad when 35 and 40 degrees feels halfway decent…I can't wait for it to shoot up to 60 one day, she's going to LOVE it!
So all in all it was a pretty good weekend.
This is the skirt my mother in law got me except for in blue…the only picture I could get was black…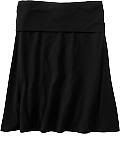 Here's one of the pairs of jeans she got Miss H…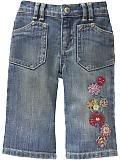 Here's the jeans I bought Miss H…
Here's the sweater my mother in law got her, that I also got her in a bigger size…I LOVE this and it looks so cute with her new little jeans I bought her!! She loves to wear this one…
These are the shoes my mother in law got her…
They didn't have the rest of the stuff online so I can't show pics of them…my mother in law gave her the sweater and shoes now but the rest of the stuff she'll get on her birthday in April.