Well I took Miss H to a local pizza place yesterday and she LOVED it. We got an 8 inch pizza on white crust with canadian bacon, artichoke hearts, onions and mushrooms and she gobbled it up. The slices are smaller than a regular pizza because it's only 8 inches but she ate 2 pieces all by herself! I couldn't get it cut up fast enough for her, she gobbled down a bunch and then pointed at the pizza "uh uh uh!" I'm glad she takes after me liking veggies on her pizza, everybody else I know likes MEAT MEAT MEAT blegh. The only reason I get the canadian bacon is because I feel like I should eat some sort of meat. But Miss H had so much fun, and I did too. I've never gone out to eat by myself before and I thought I might feel kind of weird going with just her but she really is this other little person that interacts with you and everything, she babbles and everything. It was a lot of fun. After that we ran over to the mall and did some shopping after we took my mom a latte and a bagel(she works part time at Dillard's). We stopped in Gymboree and Miss H was going through the racks of clothes babbling away...she already likes to shop LOL. We found some summer clothes for her at Penney's. I took her to Barnes and Noble for the first time and she loved it. She crawled all over the place pulling books off the shelves. She was in heaven. She picked out 5 books that we bought...and 3 were about bugs. She's really into bugs. We got one called Feely Bugs that is really neat, a little different than your normal "feel" books.



She LOVES this one...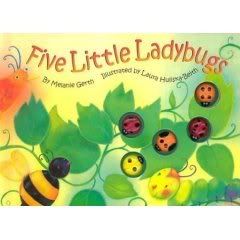 Here are the other ones she picked out...




And this one is one of those vinyl puffy tub books...



Finally D called frantic because we weren't home yet and *gasp* it was snowing outside...again...for the gazillionth time this winter. Yes it was coming down pretty hard, but I have to say I didn't slide once on the way home and my car slides like crazy in bad weather. It was just plain snow. But we had a lot of fun shopping together and she was so worn out by the time we got home she wanted to go to bed at 8:30! But I kept her up til after D got off work at 9 so he could see her(he hadn't seen her at all the whole day) and she had fun playing with him when he got home. She also had fun chasing the cat and crawling behind the recliner.

Then I rocked her to sleep and she was out in 10 minutes flat. It was a really good day. She woke up today a little after 8 and we got up and had breakfast and played. She found sleep for a while, wanting up on my lap then climbing back down, over and over and over and then she'd lay on the blanket on the floor, then back up on my lap...finally she gave in and we took a nice hour and a 1/2 nap together in the recliner. Finally at noon D woke up and his parents came over to go to Cracker Barrel with us. They brought me some chocolate covered strawberries from the local candy store that I LOVE, which I thought was really sweet. And they brought Miss H a Valentine's Day card. Miss H ate from the kids menu for the very first time today. We got her a vegetable plate, carrots and green beans. She's turning into such a little girl. She ate some of my chicken and rice too, and some bites of biscuits w/ apple butter. She fell asleep in the car on the way home before she had her bottle, so I just laid her in our bed. For some reason she won't nap in her crib for us during the day, but she'll sleep forever in our bed. She never wants to sleep with us at night though, she wants her own crib all to herself...sounds like me! LOL D is taking a nap with her(such a rough life, getting up a noon, eating, taking a nap at 2:30...jeez) and I just got done cleaning up cat puke(she puked right on one of Miss H's new books!! ARGH!!!) and cleaning the litter box and now I'm doing a load of laundry. When they wake up we're going to do some more shopping...still looking for that Wii, still out of stock everywhere. We didn't get to go by Old Navy yesterday so we might stop by there. We need to go grocery shopping too, now that Miss H is pretty much not eating any baby food at all anymore.

Miss H has started clapping. Yesterday I was cheering her on as she was doing something with one of her toys, clapping for her, and she'd stop and clap along with me. Then this morning we were watching that animal competition show on Animal Planet and when the audience would aplaud she would stop what she was doing and clap. She doesn't clap normally though, she takes her right hand and claps it on the back of her left. It's so cute!