Well Miss H is really into this basket sitting thing. Tonight she climbed into her basket of diaper changing supplies at least twice. Here's a pic of her fat little feet hanging out of the basket...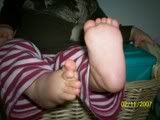 Here's a pic of her wearing her pony tail holder as a ring...she did this herself the other day. This pic is right before she sat down, pulled it off her finger and popped it in her mouth. Ignore my ugly hand in the pic, they're so dry from over-washing...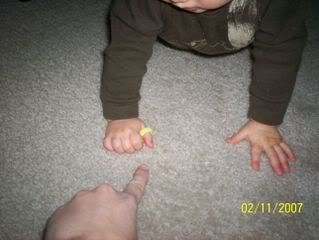 Honestly I'm so tired I forgot what else I was going to blog about...